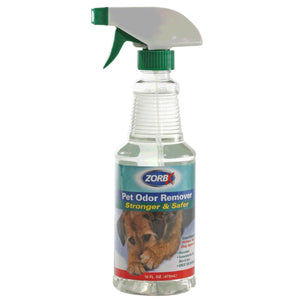 Why we love Zorbx Dog Odor Remover
I discovered Zorbx Odor Remover a few years ago. It works great and smells like...NOTHING!! Here is what their owner had to say in 2016 - 
Zorbx Unscented Pet Odor Remover is a dog odor remover that will remove all of the unpleasant smells that your dog may have. Besides removing doggie odors, it will remove odor from your dog's coat if he has been sprayed by a skunk. This safe, natural, non-toxic spray removes all odors and does not cover them up with a perfume smell because it is odorless. Some facts about Zorbx that you will want to know include:
It was created in 2000 by a nurse as a solution to the Health Care industry problems, especially for those in nursing homes
Zorbx is biodegradable and is suitable for those with allergies and respiratory problems
You can use it on pets or around pets
It is safe to use around people and plants
Zorbx not only removes skunk odor and strong pet odors, but it can also remove paint, oil, and gasoline odors
Zorbx Dog Odor Remover Eliminates all Unpleasant Smells Related to Pets
When you use Zorbx Unscented Pet Odor Remover on your dog's fur, you will notice that there is no doggy odor detectable by those who enter your home. If you have cats, it will also take hard-to-remove cat urine odors away. Simply spray it on your cat's litter and around the litter box. This dog odor remover is easy to use and inexpensive to buy. A 16 ounce spray bottle of Zorbx Unscented Pet Odor Remover costs only $14.99 and can be used many times.
You may also want to order Zorbx Unscented Pet Shampoo Plus in a 16 ounce bottle for the same price. It is green and natural and also works on removing skunk smells. It is safe for sensitive skin and cleans and refreshes your dog's coat
---