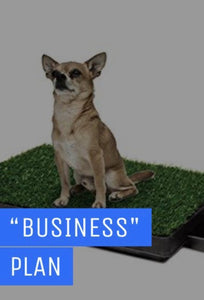 Welcome to your Dog's "Business" Plan
Welcome. We wanted to take a moment to explain our program and how it will help you and your pet. The basic "Business" Plan for your dog is everything you will need for waste management for when your dog does his/her "Business".
OK Let me back up. I live in a condo and my pets do not have the luxury of a dog door. Although they are walked multiple times a day, my little dogs are seniors and sometime cannot wait for me to get home to walk them or wait till morning. They need a place to do their "business" so they do not feel like they have done something wrong. Don't worry, everything is contained and easy to clean.
You will receive a dog training grass mat in a tray with grate included, refill training pads, and Zorbx odor eliminator for dogs. They will come in one box with minimal packaging. As a condo owner, I also think about the packaging materials I would have to lug out to the dumpster room. Not to mention the environmental issues with excessive plastic packaging.
When you are ready you can just head back to mojopetsupplies.com to reorder pads, grass mats, or odor eliminator. We have small and large quantities available in case your storage space is tight. You may be thinking "Is this a subscription I sign up for?" NO. There are no subscriptions and no fees. We will remind you via email to check your supplies periodically along with some sweet deals in the email.
We look forward building a great relationship.
---